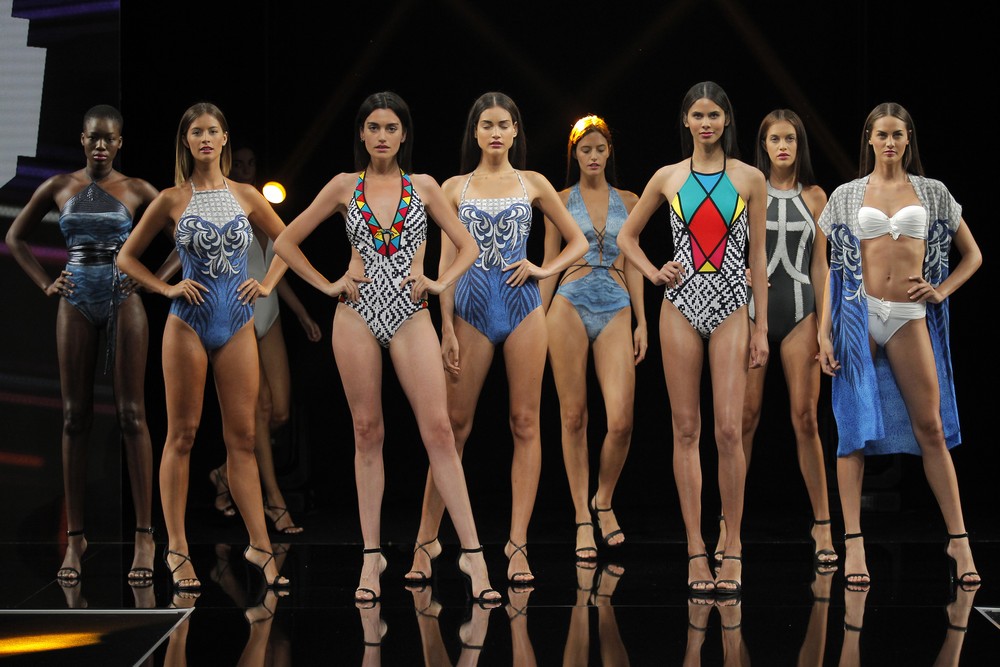 2017-06-17
The Gottex Cruise 2018 collection, designed by the talented Keren Gasner, integrates the latest trends within a high-end, modern and chic collection.
Keren Gasner, born in Israel in 1980, studied at Shenkar College of engineering and design. She graduated with honors in 2006 and during her studies was an intern at Gideon Oberson's haute couture studio in Tel Aviv. After 3 months she was asked to stay and continue as an apprentice for the swimwear line at the house of Gottex. She continued as a junior designer working side-by-side with Gideon Oberson (Gottex Creative Director at the time) on the house's leading brands: Gottex and Gideon Oberson and eventually was appointed Head of Design of the Gideon Oberson brand. She has acquired much experience as a designer among the Gottex brands such as designing Gideon Oberson, INO Gottex Innovation and the local leading junior brands, Pilpel and Free, and for the past four years she leads the brand as the Gottex brand Head of Design.
This year's collection is divided into 4 sub-categories: Couture, Collection, Contour, and Essentials.
Couture is our newest sub-category, a continuation of the successful 60th anniversary Jewel Box Collection which offers the highest level of swimwear. All of the styles within the collection feature unique fabrics, extravagant accessories and embroideries, which create a glamorous, luxurious and sophisticated look.
Collection is the heart of the Gottex collection with modern and chic prints alongside interesting solids, including a new bonding technique group called Au Naturel-Your Second Skin.
GTX consists of a solid group within the collection and cup sized bikinis you can find in the collection in a variety of prints.
Contour is a shapewear product that focuses on fit and control, whilst maintaining the fashion aspect. Our contour line "shapes your body into perfection".
Essentials. This is a more conservative category for a woman that wants the Gottex essence at a relatively lower price point.
This year's ad campaign for the Gottex Cruise Collection was shot on the coast of the Mediterranean Sea in Israel with a background of the beach, sand dunes and rolling cliffs. The campaign features top model Kate Bock, who appeared in the Sports Illustrated Swimsuit Issue from 2013 to 2017, being voted "Rookie of the Year" for her first appearance, as well as in Elle and Glow magazine.
The 2018 collection is divided into four leading inspiration stories:
Jumbled Geo- A vibrant story of sophisticated and rich geometric multicolor prints. Black and white in an African vibe mixed with multicolour to create a modern look. A lot of thought and great craftsmanship was put into creating an outstanding cutting edge storyline of prints and cuts that are sophisticated and unique so as to flatter and shape the female form.
Hyperflora- The floral trend is a strong trend and continues to be an important part of the Gottex collection. We see flowers that are drawn by hand, photo printed, as well as ethnic flowers and embroidered looking flowers. Each group shows flowers in a unique and bright way to make sure the suit stands out.
Exotic Vibes- As part of the Gottex DNA, animal prints are incorporated in the collection this year in both natural and colorful shades. From peacock feathers to leopard print the prints are very sophisticated yet modern and chic.
Golden Treasure- This is the inspiration story for the high end Couture collection that we created in continuation to the Jewel Box 60th anniversary collection. This story is all about luxurious and glamorous treasures you may find at sea and the names for the groups were given respectively.
This story includes elegant fabric, unique printing techniques, embroideries and luxurious lace in black, grey, black and white, gold, bronze, silver, and ocean shades of blue. The styles are extremely detailed with interesting cuts that flatter the figure, including inserts of different fabrics, textured fabrics and gold accessories. Some styles include exclusive embroideries and lace as well as unique glitter printing and silver lamination. Sexy backs, one shoulders, and strap details are a strong motif in the collection.
Each Couture collection style is sold with an exclusive box at all International retailers and a unique golden hangtag describing the limited edition product.
Couture is an exclusive and prestigious swimwear collection designed for the chic modern woman. Beachwear of the highest quality, fashion and innovation from the international swimwear design house, GOTTEX. Designed using the most unique and luxurious Italian fabrics, embroideries and techniques to make you feel exceptionally glamorous and elegant.