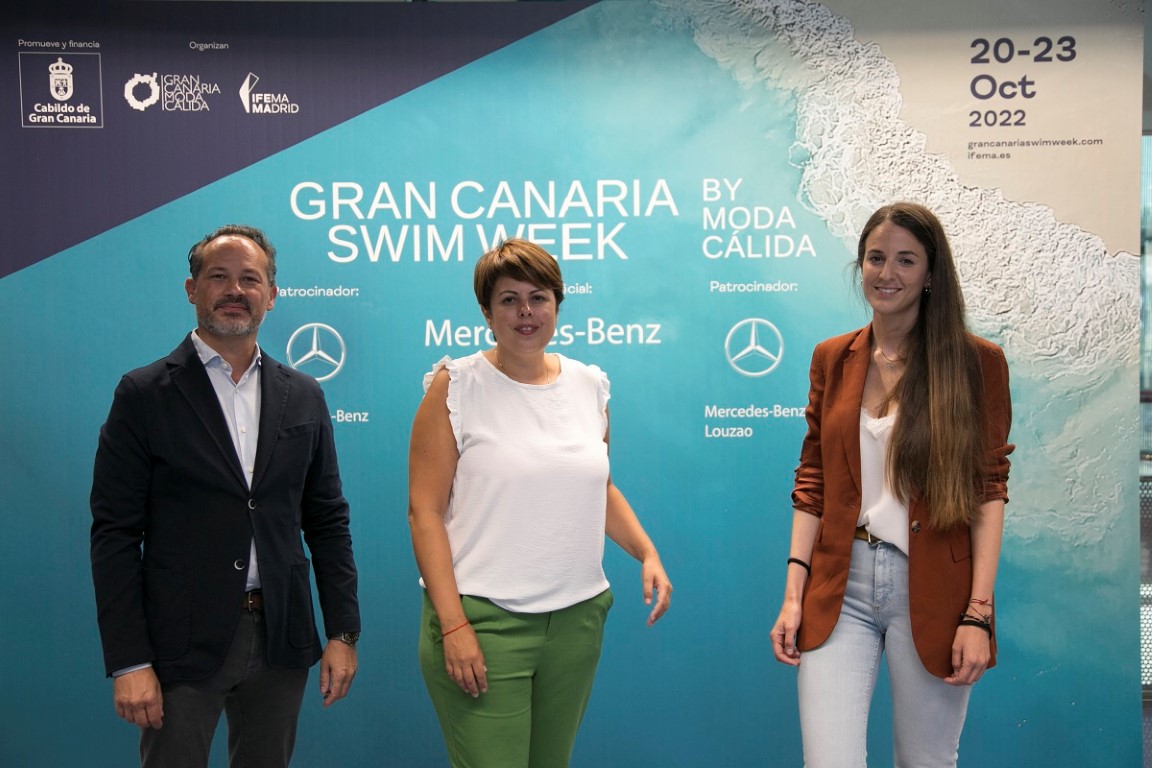 2022-07-06
The Cabildo de Gran Canaria and Mercedes-Benz have agreed the sponsorship by which the car firm will be the official vehicle of the next edition of Gran Canaria Swim Week by Moda Cálida. Thanks to this alliance, Louzao Mercedes-Benz becomes an official sponsor of the event, with the aim of promoting its DNA based on sustainability, innovation and digitalisation within the main swimwear fashion show in Europe.
Louzao Mercedes-Benz, distributor of Mercedes-Benz and Smart in Gran Canaria, Fuerteventura and Lanzarote, will be present at Gran Canaria Swim Week by Moda Cálida with the new Mercedes-EQ electric range, providing sustainable value and minimising the environmental impact of travel.

Minerva Alonso, Councillor for Industry, Trade and Crafts of the Cabildo de Gran Canaria; Benito Jiménez, Director of Communication and Brand of Mercedes-Benz Spain; and Romina Martín, Marketing Manager of Louzao Mercedes-Benz, took part in the official photo of the sponsorship agreement held today at Ifema Madrid.

Minerva Alonso emphasised the importance of the new alliance for the internationalisation of the catwalk: "Today we mark a milestone in the history of Gran Canaria Swim Week by Moda Cálida. Thanks to the coordinated work between the Cabildo de Gran Canaria and Ifema Madrid, we have achieved an alliance with Mercedes-Benz, present in the main catwalks of the world, which will be key in boosting the internationalisation of the Gran Canaria Swim Week".

For her part, the head of Marketing at Louzao Mercedes-Benz, Romina Martín, thanked the catwalk organisers for the opportunity to be part of the project in this new edition: "At Louzao, official Mercedes-Benz dealer, we feel very fortunate to collaborate with the Swim Week by Moda Cálida catwalk. We have landed this year in Gran Canaria with great enthusiasm and joining initiatives of this kind, where creativity, innovation and sustainability are combined, help us to further enhance our Louzao DNA".