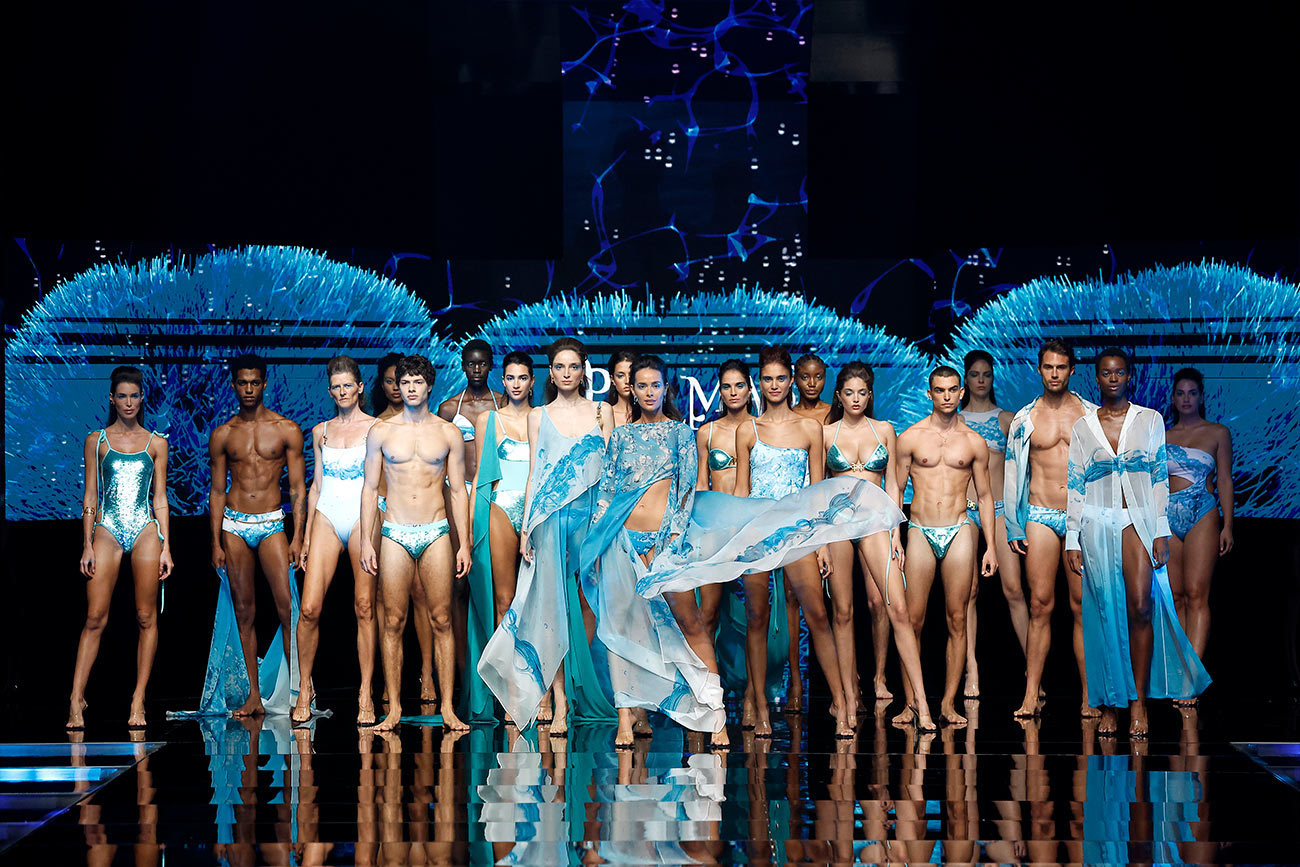 2022-10-22
Prestigious local designers such as Aurelia Gil, Elena Morales, Arcadio Domínguez and Palmas co-starred in the day's events, where innovation is the key to their collections.
Kamilla Belmont and Miss Bikini, two of the nine international brands of the edition, take to the catwalk showing the most international side of GCSW by MC.
Famous faces such as Teresa Andrés, Marta Lozano or Carla Barber followed the fashion shows from the front row. On the catwalk, models like Marta López Álamo or Tania Medina have dressed the proposals for next summer.
The closing day of GCSW by MC began at 13h with a fashion show dedicated to young designers from the Canary Islands and continued with an afternoon full of Canary Islands brands, as well as some national and international ones. The day of fashion shows has been full of sustainable bets and trends that we will see on the beaches and pools in the next season 2023.
On the front row, influencers such as Teresa Andrés, Marta Lozano, Carla Barber, Priscilla Betancort, Marta Ibrahim, Yaiza Mencía or Gema Betancor, who have helped to amplify the echo of the catwalk by sharing their experience with their respective digital communities under the hashtag #grancanariaswimweekbymc. Parading on the catwalk were top models such as Marta López Álamo, Tania Medina and Lorena Durán.
Seen on the catwalk
Rubén Rodríguez presented his Spring-Summer 2023 collection, characterised by pieces that define the silhouette and emphasise body shapes with a palette of vibrant colours. Muchiachio, a Canarian brand making its debut at GCSWbyMC in 2022, has taken inspiration from the looks worn by tourists in the south of Gran Canaria in the 1970s, revisiting the seventies trend from a local point of view. Libérrimo, for its part, has presented Índigo, a collection in which this particular shade of blue is the protagonist. In addition, the patterning of the pieces has been approached from an inclusive point of view, fitting all types of silhouettes. And to end the morning's fashion shows, Vevas filled the catwalk with joy with its Positive Messages Universe collection. The black and white dichotomy, functionality and versatility define this proposal.
In the afternoon, Como la Trucha al Trucho created a collection aimed at active and dynamic women, made up of comfortable but trendy garments with an original mise-en-scene. The collection's cheerful prints are 100% of the company's own creation. Palmas has presented Acqua, an ode to sustainability and the protection of the sea. The collection is defined by classic lines revisited, and introduces pieces such as bikinis and push-up swimming costumes with details of metallic crimping, with the brand's anagram. Elena Morales, on the other hand, has been inspired by an "eternal summer" to create a collection characterised by sophisticated lines and technical fabrics. Corsetry also plays a key role in the collection.
Bloomers is an ode to its essence and its origins. It combines prints in a strategic way to highlight the patterns, and with sustainability very present through the introduction of ecological viscose and recycled lycra. Sweden's Kamilla Belmont has presented Spotlight, which immerses us in a world of prints and colours full of light on garments where comfort is key. Chela Clo presents two different lines in the swimwear collection, one with a cheerful spirit and "youth" trend and its complementary, more sober and sophisticated lines. Aurelia Gil's 365 collection pays tribute to the brand's 20th anniversary and is a declaration of intent: to create a single collection per year made up of practical garments that combine with each other, allowing us to create infinite looks, accumulate less and be more sustainable.
And to close the show, a double fashion show by Miss Bikini, who has designed a collection in which details such as maxi acetate chains, studs, romantic cut-outs and fringes are the main features. Arcadio Domínguez, responsible for closing the day and also for the edition, brought the fashion show to a close with Espor, a collection with a casual style and a Canarian accent. White and all its shades are the common thread of the collection, which mixes handmade crochet, cotton, satin, lycra and tulle.
Instagram @GranCanariasSwimWeekByMC
Twitter @GCSwimWeek
Facebook @GranCanariaSwimWeekbyMC
Official hashtag #GranCanariaSwimWeekbyMC