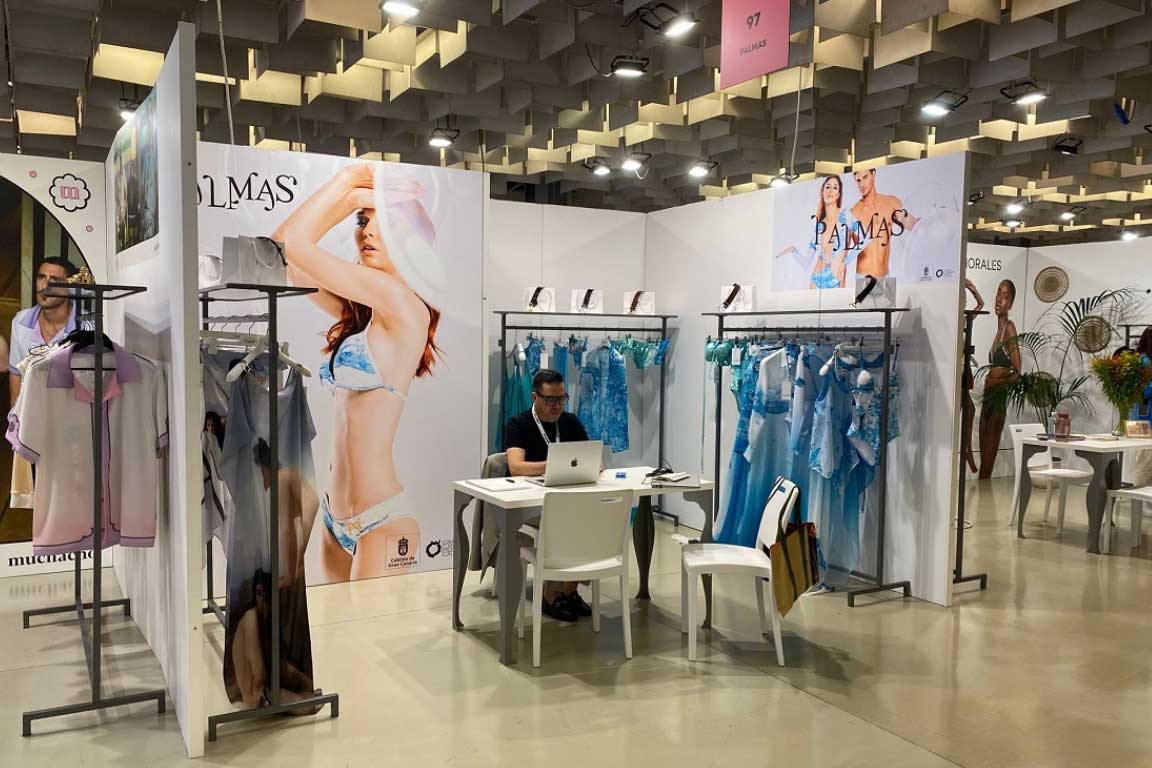 2023-07-26
The island firms Muchiacho, Elena Morales, Pedro Palmas, and Carlos Sanjuan traveled to Italy under the umbrella of Moda Cálida and the Internationalization and Promotion Plan of the Chamber of Commerce of Gran Canaria
The four return with numerous business contacts with stores in San Marino, Holland, France, Italy or even Spain, among others.
The most important brands of beachwear, swimsuits, kaftans, accessories, homewear and underwear exhibit at this event where new trends are born
The Gran Canaria Swim Week catwalk held a successful presentation before more than 200 guests at the Hard Rock Café in Florence, as part of the 16th edition of the international swimwear and underwear fashion fair 'Maredamare', which closed its doors yesterday after once again bringing together the most important firms and buyers on the continent. A presentation that was born from the collaboration between the Cabildo and the management of the Italian fair and which also materialised in the participation of four firms from the Island under the umbrella of Moda Cálida and the Internationalisation and Promotion Plan of the Chamber of Commerce of Gran Canaria -Muchiachio, Elena Morales, Pedro Palmas and Carlos Sanjuan-, who returned "satisfied with the opportunity to parade and the number of business contacts and requests for orders that have arisen during these days of exhibition with shops in countries like Holland, France, Italy, San Marino and even Spain," according to Palmas himself.
"Now we have to materialise these contacts, but it is undoubtedly an opportunity for the most important shops and companies to get to know you", adds Sanjuan.
"This is the objective of this alliance with MaredaMare", assures the Councillor for Economic Development, Minerva Alonso, who points out that "as the collaboration grows, the fruits are more important" both for the designers and for the promotion of the catwalk "which continues its internationalisation trajectory and consolidates itself as an unmissable event and a reference at European level for swimwear fashion", she says.
The exclusive event organised at the Hard Rock café, located in the central Piazza della Repubblica, for those buyers from all over the world that MaredaMare invited, as well as for the press of the sector and fashion, was an absolute success and will generate media coverage in various media of reference. In the same way, in the next edition of Gran Canaria Swim Week, five international buyers, three international firms specialised in swimwear and three Italian media specialised in fashion will be present at Mare da Mare's proposal. In addition, Mare da Mare will present the prize for the best sustainable collection of 2023, which will consist of a free stand for its firm at the Mare da Mare Fair 2024.
The largest Italian showcase for swimwear fashion
The 16th edition of Maredamare renewed its commitment to an increasingly expansive vocation thanks to the participation of the best swimwear, kaftans, accessories, homewear and underwear brands at the Fortezza da Basso in Florence, Italy's most prestigious and historic event venue, located in the city centre. An average of 300 mid to high-end brands have exhibited these days at Maredamare, making it the only Italian show in the sector and an absolute reference in Europe in beachwear.
6527