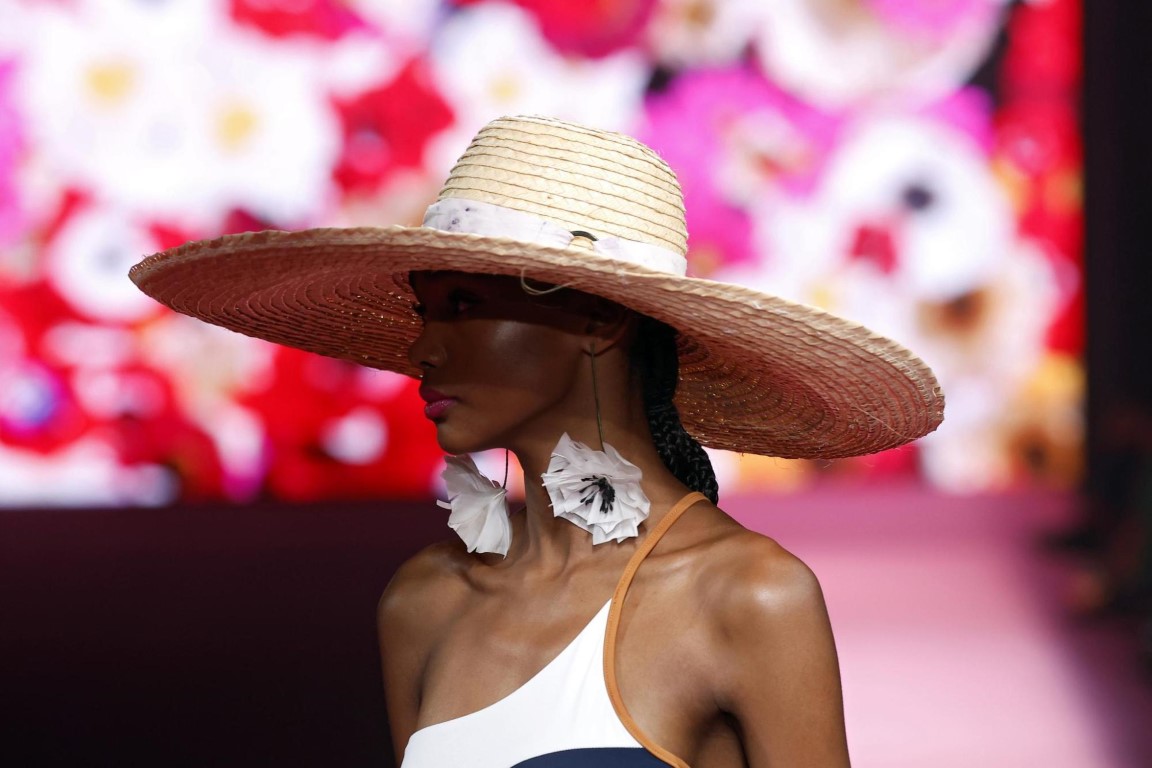 2023-09-16
- The designer from Gran Canaria, a member of the Moda Cálida program, parades on the Madrid catwalk for the second consecutive year.
- The Councilor for Economic Development, Minerva Alonso, present at the parade, congratulated Gil "for her constant effort to always present a work that achieves excellence and is a source of pride for the sector of the Island".
Gran Canaria designer Aurelia Gil returned to parade today for the second consecutive year at Mercedes Benz Fashion Week Madrid, where she presented her new collection 'Tiempo' for the next 2024, with which she renews her commitment to research in the crafts of her archipelago and consolidates the firm's commitment to sustainability.
"It is a privilege and a great responsibility to participate, for the second consecutive year, in the MBFW Madrid catwalk in the official calendar," said Gil after the parade who added that "at the same time, it is a pride as a designer because it is the result of an intense year of work that has paid off" . "Perhaps, what motivates me most about this edition is that the public can continue to appreciate the value of the craftsmanship of our Archipelago that is so present in the new collection," he summarized.
A value that the Councilor for Economic Development, Minerva Alonso, present at the parade, also wanted to highlight. "We must congratulate Aurelia for an always excellent work and that also bets, supports and serves as promotion for Gran Canarian crafts, an indisputable part of our cultural value," said Alonso.
Tiempo' is composed of ultra feminine silhouettes and rich fabrics such as silk, lamé and brocades, which coexist with lycras, denim and cottons. At the chromatic level, the work of Dalí that inspires the entire collection, and "The persistence of memory" bathes the looks in earth tones, pinks, indigo and of course, black.
As for the enhancement of the value of craftsmanship, this year it does so through the crochet, woven with lycra yarn developed in the Canarian designer's own workshop; the Canary fretwork present in pieces previously dyed by hand; earrings and accessories made one by one by hand; and through footwear that combines leather and wood.
Among the craftswomen participating in this collection are Raquel Hammerhoj, footwear craftswoman; Eloísa Pascual, crochet craftswoman; Nathalie Leturcq, organic dyeing craftswoman; Marisa Velázquez, accessories and headgear craftswoman; and the Colectivo de Caladoras de Ingenio.
In addition, 'Tiempo' includes a capsule collection of four swimwear looks in collaboration with designer Juanjo Oliva, consisting of two bikinis and two swimsuits. This capsule is inspired by the play of color and the designer's characteristic shapes, and the silhouettes are the hallmark of Aurelia Gil.
This collection will be available at Maison Oliva Paris and www.aureliagil.com.
6531